Geron (GERN) has been wandering in the wilderness for these last four years as shown by its price chart below:
Geron and a Johnson & Johnson (NYSE:JNJ) subsidiary Janssen signed a collaboration agreement (CA) focused on Geron's telomerase inhibitor imetelstat on November 13, 2014.
The CA has served as a focus for Geron investors ever since. Thursday morning, 9/27/18, we learned that the CA exists no more. Now we are back to the pristine situation of evaluating Geron and imetelstat on their own merit.
We are also back to the <$2.00 price point that preceded the CA. I will discuss where Geron currently stands and how its future is shaping up.
On 9/27, Janssen smashed any dream of $10 by 10/10.
It is in the nature of speculative biotech portfolios to take big hits from time to time. Thursday morning was one of those times for me and my fellow Geron longs. Geron took a big hit as you can tell from this September price chart below.
September began as a month for fond remembrance. It will end as "A September to Remember", not so fondly for Geron's long suffering longs.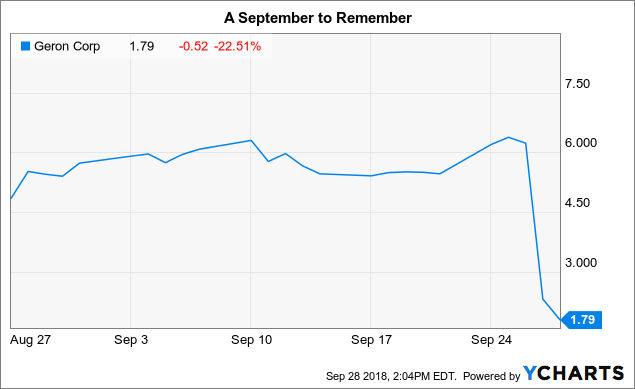 I had set a price target of $10 by 10/10. I postulated this as a price point Geron would reach in case of a positive Janssen continuation decision (CD) as I wrongly assumed would be the case.
Instead, Janssen elected not to continue per its fateful early morning 9/27/18 PR. Geron is now (9-28-18) plumbing the <$2.00 price range. Any visit to loftier climes will have to await future developments.
Janssen's negative CD is only critical in terms of its collaboration with Geron; it has limited significance in terms of the likely therapeutic benefits of imetelstat.
Janssen's PR on its imetelstat decision is worth considering and should be taken on its face value. In relevant part it reads:
Janssen Biotech, Inc. (Janssen) announced today Biedex.com9/27/18] its decision not to continue the collaboration and license agreement with Geron Corporation for imetelstat. The decision not to continue the collaboration is the result of a strategic portfolio evaluation and prioritization of assets within the robust Janssen portfolio. Janssen will work with Geron to transition the imetelstat program back to the company. Patients currently enrolled in the ongoing imetelstat clinical trials will continue to be supported through the respective trial protocols, including treatment and follow-up.

The imetelstat collaboration began on November 13, 2014 when Janssen entered into an exclusive worldwide collaboration and license agreement with Geron to develop and commercialize imetelstat in oncology, including hematologic myeloid malignancies. Biedex.comemphasis added]
I have italicized the key language. Janssen has one of the most imposing pipelines in pharma today. Optimistic Geron bulls were confident that imetelstat was an essential component of this pipeline. Today we learned that Janssen does not agree.
We will never know exactly why it made this decision. We will not know the factors that played into the decision. It is simply wrong to conclude that the decision was an overarching negative evaluation of imetelstat.
To the contrary, I take Janssen at its word as stated in its PR above. Its imetelstat decision reflects: "a strategic portfolio evaluation and prioritization of assets within the robust Janssen portfolio", no more, no less.
Such a decision is decidedly unfortunate for Geron longs. It is not, however, a decipherable critique of imetelstat, much less a prediction of how imetelstat will fare in its ongoing clinical trials.
Geron's path forward is clear to partly cloudy.
Imetelstat is currently in two clinical trials: IMbark for Myelofibrosis (MF), and IMerge for Myelodysplastic Syndrome (MDS).
The IMbark trial has been the repository of outsized expectations arising from the increased survival experience of trial participants. Unfortunately, as CEO Scarlett reminded us in his 9/27/18 update, the trial as conducted did not meet its co-primary endpoints of:
… a 35% reduction of spleen volume, or SVR, and a 50% reduction of the total symptom score, or TSS.
Accordingly, Geron's current approach to MF is unsettled. Geron plans to follow IMbark study participants in a one year extension study for safety and survival. In addition, it plans to investigate all available options to design an effective phase 3 trial that will support an effective NDA for imetelstat in MF. CEO Scarlett described the plan as follows:
… we plan to discuss the results of the IMbark primary analysis, including the assessment of overall survival as it compares to historical data, with experts in MF. And based on the results seen in IMbark to solicit their views on the suitability and potential value to patients and physicians if we were to consider conducting a large Phase III study in this population.

…we plan to engage health authorities to ascertain their expectations of what they would consider clinically and regulatorily meaningful outcomes in a Phase III study.
Accordingly, Geron is still very much up in the air as to any IMbark phase 3 trial. I have to think that nothing much may happen in this regard unless and until Geron finds a partner.
Geron's priority appears to be MDS. On that score, all systems are to go with regulatory authorities and with established protocols at sites for clinical trials, subject to one nettlesome, but critical, detail. Before Geron can get started:
…Biedex.comGeron must] begin transferring control of the operational responsibilities for the imetelstat program back to Geron, including sponsorship of the IND and ongoing clinical trials, contractual commitments, patient databases, drug inventory and manufacturing, preclinical information, biometrics and regulatory filings.

Geron expects the transition of the complete imetelstat program to occur over approximately 12 months with operational support from Janssen. We anticipate working together closely with Janssen to ensure that treatment and follow-up for all patients currently enrolled in both the IMerge and IMbark studies will continue without interruption.
Janssen's decision has put Geron's cash resources under a microscope.
I remember a philosophical comment to Geron's Big Day from thematix. It was his second comment on Seeking Alpha. He opined in substance that no "passionate scientist with a conscience & a real cure would …Biedex.com] be in a deal with J&J."
I thought this was an interesting remark. I responded:
thematix
A passionate scientist "with a conscience and a real cure" would be in a real pickle.
He also would need a real way to get FDA approval and real funds to finance the operation.
Johnson and Johnson provides that.
Little did I realize that this exchange, taking place on 9/17/18, would be directly relevant to Geron's actual situation, just a few days later. Now Geron is, by my estimation, in the position of the hypothetical scientist with a real cure. It is in the position of having to direct and fund the critical phase 3 studies that will allow imetelstat to seek FDA approval.
I won't say we are in a pickle. We must find the funds to finance our quest. We no longer have deep-pocketed JNJ funding substantial costs nor are we any longer in line for royalties, milestones and the like.
While that sounds foreboding, it also means that Geron regains full rights to imetelstat. Imetelstat remains de-risked with fresh appreciation that de-risked does not mean free of risk.
No matter how powerful imetelstat is therapeutically, it is on the shelf until it can obtain FDA approval. Geron's trick is to finance this itself while it pursues this approval. CFO Bloom gave a quick cash rundown as follows:
As of August 31, 2018, we had $183 million in cash and marketable securities, which we expect to be sufficient to conduct the activities that Chip outlined for MF and MDS, including the plans to open Part 2 of IMerge for enrollment.
The glass half full crowd can look at this as good news. Certainly a stash of $183 million is substantial. A Curiosity Killed The Cat comment alerted me to a resource that helps in figuring the cost burden of various types of clinical trials. It gives a ballpark estimate for the average cost to complete Phase 3 trials in oncology as ~$22 million. An earlier (2014) U.S. Department of Health & Human Services Study pegs the same amount.
In addition to whatever costs the MDS phase 3 entails, Geron's expenses for the next several years will include:
general and administrative expenses (~$11 million per year p.2)
research and development expenses, including such expenses to recast an MF phase 3 trial
its costs of regaining operational control of imetelstat from Janssen,
countering class action lawsuits that are darkening the horizon
restructuring itself from a skeleton operation to more of a complete company
Geron's most important near term catalysts are tied to the potentially positive data that will be unlocked when the ASH embargo lifts as referenced by CEO Scarlett in his 9/27/18 presentation as follows:
Janssen has submitted an abstract for the combined results of the initial 13-patient cohort and the 25-patient expansion cohort from IMerge Part 1 for presentation at the upcoming American Society of Hematology, or ASH, conference in December. For that reason, we're refraining from providing any further data or commentary until that abstract is published in order to observe the ASH embargo policies related to abstract submissions. If the abstract is expected at ASH, we expect more mature data from the target population of Part 1 of IMerge to be included in the ASH presentations.
Is CEO Scarlett up to, or even up for, the task?
CEO Scarlett is 67 years old. For the last four years, he has headed a skeletal operation with less than 20, mostly highly paid employees ($.5 million median). Geron's principal mandatory tasks have been to fulfill its duties as a publicly traded corporation and to fulfill its role as a collaborator with Janssen under the CA.
Now everything is changing. Nobody knows how long he has seen the handwriting on the wall but I have to believe that this final decision is highly unpleasant for him. Petula Clark's 1962 blockbuster, "Breaking Up Is Hard to Do", captures the pathos intrinsic to Geron's current dilemma.
When I first reported on CEO Scarlett in early 2017, I gave him high marks for his deal-making abilities. As time has unfolded Janssen has proven to be less of a prime catch, more like a cold or the flu. There are serious questions as to its structuring of the primary endpoints for IMbark and in connection with its selection of patients for the expansion cohort of IMerge.
The comments to Geron: The Last Chapter have been highly critical of Scarlett's second Janssen deal referenced in my earlier article. The concern is that Janssen picked Geron's pocket on this one, accessing key patents on the cheap.
Today, I use an entirely different lens in evaluating Geron's Janssen deals. Such is human nature. Now, in connection with the CA, Geron wants to get going on a phase 3 IMerge as quickly as possible. It is going to take up to a year and, to add insult to injury, Janssen is going to be billing Geron for its time in accomplishing the return.
If the CA had made everybody rich, CEO Scarlett would have been a hero. That is not the hand we have been dealt. Now Geron has the goal of achieving FDA approval for imetelstat. It has its cash resources to help it get there.
We existing shareholders will be judging Scarlett harshly on how well he manages these liquid assets. His every decision will be subject to critical review. Compensation will be high on the list of potential complaints if dilution begins to look as if it is in prospect.
CEO Scarlett's future at Geron looks to be far more challenging than its past. Time will tell how he responds. I am cautiously optimistic.
Conclusion
The Janssen saga was painfully slow for ~four years. Now in a blink it is gone. Now Geron is back to blocking and tackling. It remains as custodian for imetelstat. It is back to the nitty-gritty of providing day to day funding for imetelstat.
At this point, there are lots of dump-it-alls at work. The dump-it-alls are sick and tired of Geron; they are ready to chalk up this whole episode as a painful learning experience on how not to handle a biotech investment. They have either sold or plan to soon sell their entire positions at whatever price point is available.
Opposite the dump-it-alls are the Geron forever crew. By their lights Geron is worth billions; now that it is no longer beholden to Janssen it is free to make imetelstat deals whether they be tied to IMerge or IMbark or to some creative combination study as yet unformed.
I understand and respect both positions. I have rejected, although I fully understand, the dump-it-all approach. I have done that with other investments and usually end up regretting my decision. There has been too much analysis by too many knowledgeable people for me to simply cut and run when there are still avenues for positive outcome.
I have pared my exposure while retaining a significant, for me, stake. I intend to continue evaluating the situation. I have ridden the waves up and down. My speculative biotech portfolio is a risk portfolio. I have experienced turbulence, at times extreme, in most of its names.
I thank everyone who has contributed so much to the learning experience provided by Geron's comment streams. I am hopeful that Geron can design a trial to permit more patients to realize the benefits which imetelstat appears to provide for some Myelofibrosis (MF) patients.
Disclosure: I am/we are long GERN, JNJ.
I wrote this article myself, and it expresses my own opinions. I am not receiving compensation for it (other than from Seeking Alpha). I have no business relationship with any company whose stock is mentioned in this article.
Additional disclosure: I may buy or sell shares in GERN and JNJ over the next 72 hours.