Let me just dispense with the elephant in the room upfront: The Trump administration moved forward with tariffs on an additional $200 billion in Chinese goods on Monday evening and those duties will go into effect on September 24.
On Tuesday morning, China retaliated as expected, announcing differentiated levies on $60 billion in U.S. goods.
Both the U.S. President and Wilbur Ross (with the latter speaking to CNBC on Tuesday morning), made it clear that China's retaliatory measures will be viewed by the administration as unacceptable and as cause for a third wave of tariffs on $267 billion in additional Chinese imports. That prospective third wave would take the total amount of goods subject to tariffs to ~$500 billion. More to the point, the U.S. would be taxing everything China ships to America.
In a note out just after midnight, Goldman put the odds at "slightly greater than 50%" that the Trump administration goes all in on China by 2019.
At the time of this writing, the market reaction is muted. This was easily the most well-telegraphed escalation yet. At least a half dozen mainstream media outlets confirmed the escalation over the weekend and the President's tweets clearly indicated he would be moving ahead irrespective of Treasury Secretary Steve Mnuchin's efforts to restart negotiations.
I'll get into the specifics on that in another article, but here I want to focus on something tangential. Specifically, I want to address whether the buyside is overexposed and underhedged with U.S. stocks still sitting near the highs and as geopolitical risks mount.
Last month, as U.S. stocks (SPY) pushed to new highs amid a fleeting dip in the dollar and an equally transient rally in emerging markets, I likened the price action to the "melt-up" global equities experienced in January. At least one commenter here asserted that I was implicitly suggesting another episode like what unfolded in early February was in the cards.
Simply put: That wasn't what I was suggesting. In fact, I wasn't suggesting anything, really. Rather, I was just describing what to me looked like a classic melt-up, characterized this time around by the consensus U.S. equities fund strategy of long Growth/Momentum outperforming after a period of underperformance tied in part to the late-July selloff in Facebook (FB) and FANG+, a squeeze in the most shorted names and under exposure as benchmarks climbed.
You can see the first dynamic (i.e., the recovery of the consensus equities fund strategy) pretty clearly in the following chart, which shows hedge fund performance diverging from the S&P, recoupling in late August, and then decoupling again in tandem with the tech selloff that accompanied Twitter CEO Jack Dorsey and Facebook COO Sheryl Sandberg testifying on Capitol Hill earlier this month:
Here's a more granular, annotated chart of the same thing from Nomura's Charlie McElligott:
As far as the short squeeze bit goes, here's a visual on that:
And on the under exposure point, consider the following visual from Goldman's latest hedge fund monitor, out early last month:
The message there is that when U.S. stocks pushed to new highs in late August, it came against a backdrop where consensus longs in Growth/Momentum started to "work" again (green arrow in first chart, green box in Charlie's annotated visual), and it came at a time when equities funds were likely scrambling to increase exposure to a market that was running out ahead of them.
On that latter point, have a look at the sharp spike in hedge fund beta to the S&P as everyone "grabbed" for exposure, turbocharging the late-August rally (this one is also annotated by Nomura's McElligott:
This raises the following obvious question: Are institutional investors (and the buyside more generally) running max exposure to U.S. equities at a time when geopolitical risks are multiplying and domestic political tensions are running high ahead of the midterms?
The answer, according to JPMorgan, is yes.
Specifically, the bank's Nikolaos Panigirtzoglou notes that on the quant front, risk parity and Relative Value Multi-Strategy funds have seen their equity betas rise sharply of late, with the former's exposure now well exceeding what we witnessed in January:
As far as CTAs go (and remember, trend followers are the market's quant bogeyman), recall what JPMorgan's Marko Kolanovic said last month about momentum signals in U.S. equities versus Europe and EM:
If one looks at price momentum – it is positive for US stocks and negative for Europe and Emerging markets across all relevant lookback windows. This has never happened before.
With that in mind, have a look at the following chart from Panigirtzoglou, which shows you momentum signals in standard deviations for U.S., EM, European and Japanese equities: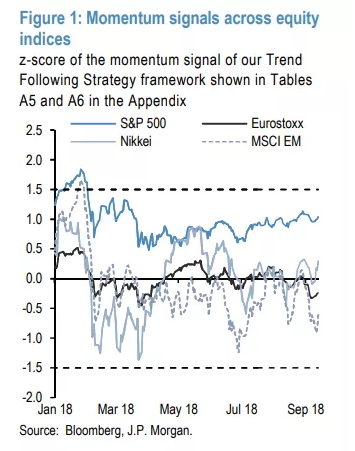 (JPMorgan)
The implication there is that trend-following strats are likely long U.S. stocks and short or neutral ex-U.S. equities. If those momentum signals were to reverse, it would entail underperformance for U.S. stocks. As Panigirtzoglou writes, it also means U.S. equities "are more vulnerable relative to their non-US counterparts as CTAs are already short the latter."
What about the discretionary crowd? Well, you already know the answer to that. The fifth visual from the top (the HFRX beta to the S&P) clearly indicates that the Long/Short crowd is running high exposure after last month's grab-a-thon.
Is any of this exposure hedged? Obviously some of it is, and it's clearly not possible to pin down exactly how much, but JPMorgan offers the following set of visuals which show, clockwise from left, relatively low short interest (compared to recent history), average put to call ratios on stocks, average call to put ratios on the VIX, and (another) large net short in VIX futures:
Again, that's not "definitive", per se, but it does at least suggest that hedging activity isn't particularly high relative to institutional equity exposure.
Now, do consider that just as the trade war is entering a new phase and just as markets prepare to cope with the home stretch into the U.S. midterms, the buyback blackout period is upon us. Here's Goldman with some color on that from a note out late last week:
S&P 500 stands just shy of its all-time high of 2914, but the upcoming buyback blackout window presents a near-term risk. Companies are precluded from making discretionary share repurchases during the month before reporting results. 18% of the index is currently in blackout and 86% will be restricted by October 5. Since 2000, S&P 500 returns have been comparable in blackout and non-blackout periods, but realized volatility has been nearly 1 point higher in blackout periods than when a majority of firms are free to repurchase stock (14.4 vs. 13.6).
That's something to consider in light of how critical buybacks have been this year in terms of shielding U.S. stocks from the turmoil abroad.
The main takeaway here is that the late-August "grab" for exposure as benchmarks made new highs and ran away from the buyside appears to have created a situation where both quant and discretionary funds are running elevated exposures against an increasingly fraught geopolitical backdrop. Additionally, it's not entirely clear that exposure is properly hedged.
Given that some of the systematic strats mentioned above were in part responsible for the forced de-risking that amplified losses in early February, and given that the buyback bid is set to be somewhat constrained, it's probably worth putting on some hedges of your own to guard against a scenario that compels a quick paring of some of the exposure illustrated above.
On that note, I'll leave you with a great quote from a recent MacroVoices interview with the above-mentioned Charlie McElligott:
The importance of systematic strategies, vol control strategies, risk parity of course, trend following CTA's, those are a critical part of what I do on a daily basis, certainly based within a very vol-centric world. The changes, the inflections that are made, happen unemotionally and happen with significant leverage behind them.
Disclosure: I/we have no positions in any stocks mentioned, and no plans to initiate any positions within the next 72 hours.
I wrote this article myself, and it expresses my own opinions. I am not receiving compensation for it (other than from Seeking Alpha). I have no business relationship with any company whose stock is mentioned in this article.